QHSE, CSR/Sustainability,
and CO₂ Reduction
QHSE stands for Quality, Health, Safety, and Environmental Management System. The QHSE system of De Haas Shipyards and Powerport is structured and based on the prevailing ISO 9001, ISO 14001 (including CO₂ reduction management), ISO 45001, ISO 27001, and various Defense standards in accordance with ABDO 2019 and AQAP.
De Haas Shipyards and Powerport hold multiple company certificates that demonstrate our compliance with national and international standards for ensuring quality, health, safety, and environmental protection within our field of work.
ISO 9001
ISO 14001 incl. CO₂ reduction management
ISO 45001
ISO/IEC 27001
De Haas Shipyards is set to implement the ISO 27001 standard into its QHSE and SMS systems in 2023. ISO 27001 helps us identify risks and implement security measures suitable for our businesses, enabling us to manage or reduce information security risks for both ourselves and our clients.
De Haas Shipyards has formulated a policy document outlining the principles of our information security system. With these principles, we aim to control information security risks while maintaining our flexibility and operational efficiency.
You can access this policy document via this link.
By clicking on the links above, you can download or view the certificates.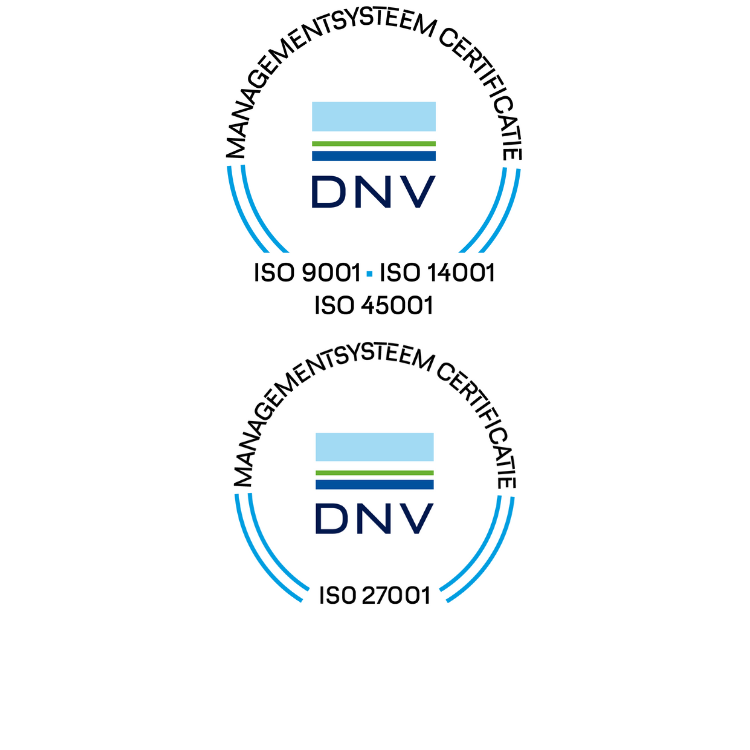 CSR – CO₂
Sustainability and efficiency go hand in hand.
Given the nature of our activities, it's only logical that we place a high value on sustainability. Many of our clients have strict requirements regarding environmental impact and emissions.
In all aspects of our work, we consider environmental effects. After all, sustainability involves not just people, materials, and technology but also the environment. Our yards are equipped with clean technology, biodegradable coolants, and other environmentally friendly solutions.
For us, environmental concerns and efficiency are intertwined, ensuring that corporate social responsibility doesn't lead to adverse effects on pricing but instead enhances effectiveness.
Sustainability is a way of working at De Haas Maassluis and is part of Corporate Social Responsibility (CSR). Although environmental care is inherent to us, we have additionally implemented and certified CO₂ reduction management in accordance with ISO 14001 to demonstrate our commitment to environmentally friendly practices.
CO₂ reduction management
CO₂ reduction management utilizes four perspectives:
Understanding (of our own CO₂)
Reduction (objectives and ambitions)
Transparency (internal and external communication)
Participation (engagement in reduction initiatives)
De Haas Shipyards and Powerport establish objectives each year to guide the implementation of these perspectives.
Objectives
Reduction of CO₂ emissions:
De Haas Maassluis and Powerport aim to reduce controllable and risk-contributing CO₂ emissions by 2.5% annually in the CO₂ footprint of scope 1 & 2.(see Goals in Milieubarometer).
This has led to a 49% reduction in gas consumption in 2022 and an average CO₂ emission reduction of approximately 30% since 2019.
Reduction of CO₂ emissions in the supply chain:
By participating in sustainable initiatives and contributing to the sustainability of vessels, De Haas Shipyards and Powerport assist in reducing CO₂ emissions in the sector. Examples of these initiatives include:
Establishing a hydrogen and methanol refueling station at the De Haas Rotterdam yard (in collaboration with the Port of Rotterdam).
Designing and executing the conversion of a patrol vessel to methanol engines (in collaboration with RWS and C-Job).
Researching, designing, and constructing potential future demonstrator hydrofoil boats powered by hydrogen fuel cells (in collaboration with Flying Fish and Zepp Solutions).
Implementing hybrid propulsion technologies.
Making existing propulsion systems more sustainable by utilizing low-emission solutions and products, such as the installation of Dual-Fuel engines (Diesel-Hydrogen).
Enhancing sustainability in real estate;
insulating and making existing real estate more sustainable, including transitioning to energy-neutral facilities at De Haas Rotterdam.
Measuring, analyzing, and improving waste streams;
Applying a life cycle perspective through the selection of sustainable partners, suppliers, and collaborations, while also minimizing packaging materials, improving waste separation, and conducting waste prevention research.
Preventing environmental damage, such as soil and water contamination;
Improving the temporary storage of diesel by acquiring double-walled PGS-certified diesel tanks.
Implementing various measures at De Haas Rotterdam to prevent soil and water contamination, including the construction of a 10,000 m2 liquid-tight (certified) floor and a dedicated washing area for vessels near the lifting point.